Saxon has been contributing to Gardening Gone Wild for over 4 years…practically since its inception. As all of you know, he is a gifted garden photographer, a gardener, a fine writer, and a man with a gentle soul. You can see more of  Saxon's work on his website: Saxon Holt and his personal blog, Mental Seeds.…Fran Sorin
When pressed I confess to being more gardener than photographer. While I do love taking pictures and trying to figure ways to tell the stories I see, gardening is what drives me to pick up the camera. I rarely pick up a camera unless I am in a garden or exploring plants and ecosystems.
I come from a long line of gardeners. My great grandfather, John Sherwood, had a beautiful home in Baltimore Maryland with a huge garden that he left to the City of Baltimore. Sherwood Gardens is still open and famous for its tulip display. The enduring, classic azalea, 'Sherwood Red" is named for him.
Growing up in Tidewater, Virginia, I became a gardener by osmosis. As the oldest of five kids I think my parents were eager to have me take up the garden chores, cutting the grass, pulling weeds, turning the compost. I don't remember enjoying any of this. I do remember being paid a penny for every dandelion and thinking this was not much of an incentive.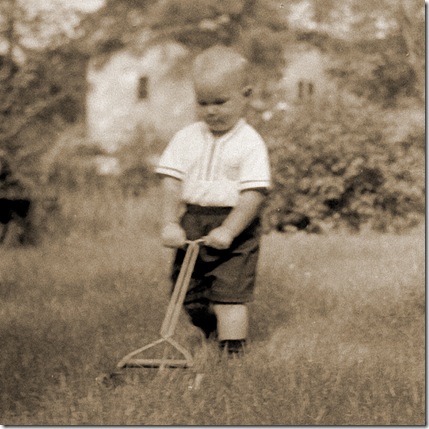 Lawn Boy