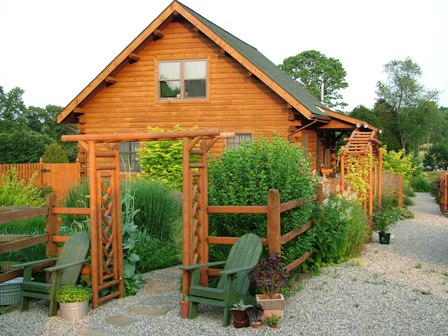 Fences and walls are two features that add vertical elements to your garden, but they're not always the most practical or aesthetically pleasing option. Where you'd like to add height without enclosure, arbors and pergolas can be a better way to go. A free-standing arbor may frame a beautiful view, mark a transition between two areas, or create a welcoming entrance. Larger arbors and pergolas are ideal for sheltering sitting areas, adding welcome shade in sun-baked sites. And from the perspective of plant lovers, arbors and pergolas are superb supports for all sorts of gorgeous vines and climbers.
So, fellow gardeners, care to show off your favorite arbors and pergolas, either in your own garden or elsewhere? Share the story of how you chose and placed the structures you have, or tell us about your dream arbor or pergola. Or, how about showcasing some of your favorite vines and climbers? We'd love to see them! Leave a comment below, or give us a link to a related post on your own blog. At the end of the month, we'll gather all the links into one post. To check out previous Design Workshop topics, see Paths and Walkways and Fences and Walls.
GET UPDATES
Sign up and receive our latest garden inspiration straight to your inbox.