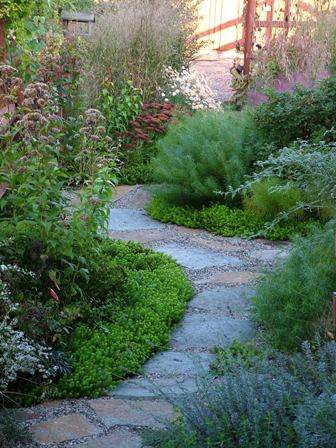 In our discussion of garden photography last week, we tossed around the idea of starting a series on design-related themes. There seemed to be some interest, so we're going to give it a try. We're calling it the Garden Bloggers' Design Workshop, and here's how it'll work: On the first of each month, we'll announce the topic for the month, along with several questions to hopefully spark some discussion. Anyone who wants to participate is welcome to add a comment to our post, or to post on their own blog and then leave a comment here to let us know. At the end of the month, we'll post our own thoughts on the topic, along with links to the comments and other participating blogs.
We already have a year's worth of topics lined up and are looking forward to getting started. So, even though we're not officially starting until November 1, we'll give you a head start. The first topic will be (drumroll, please)…paths and walkways: the materials you use for your garden paths, the widths you prefer, the most memorable path you've ever seen or created, your worst pathway mistake, and so on.  Start thinking and gathering photos now, then check back with us on November 1!
GET UPDATES
Sign up and receive our latest garden inspiration straight to your inbox.