As the official photographer for the San Francisco Flower & Garden Show this year, I had access to a lift so that I could shoot down on the gardens.  I was up with these dragons overlooking  the amazing landscapes.
I was also a judge for the Garden Conservancy so I had early access as the gardens were primped and ready to show. Come fly around . . .  
Show Director Chris Woods created a Grand Allée to the gardens, guarded by what can only be called an Ent.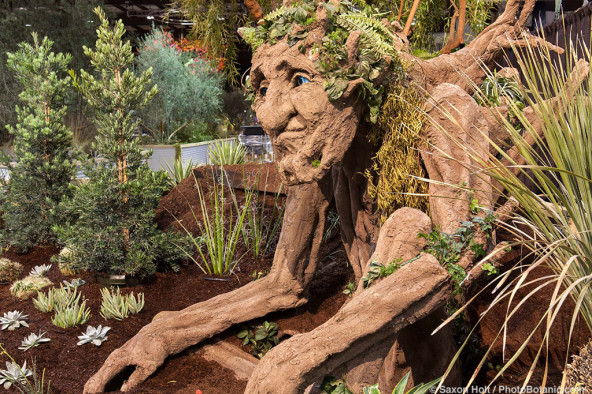 Strolling through the Allée, floral designer Natasha Lisitsa created one of her signature exuberant creations "Aerial Floral".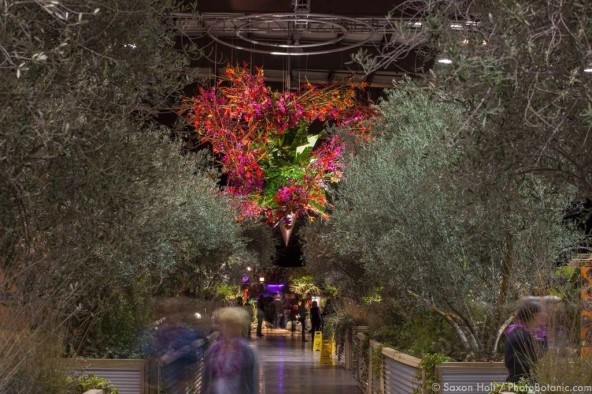 As is typical for these shows, the gardens are theatrical creations on a theme.  They are also lit with theater lights that makes photography difficult.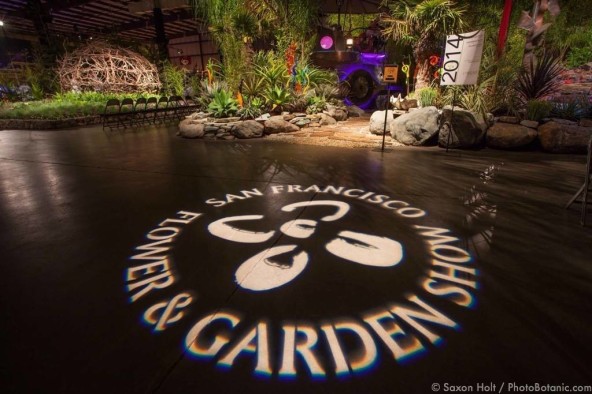 Nice to look at, but quite contrasty.  Fortunately I was able to have the room lights on during some of the photography, so I could have some fill light.

But the most fun was working with the lighting, since many of the exhibits depending on the dramatic effects.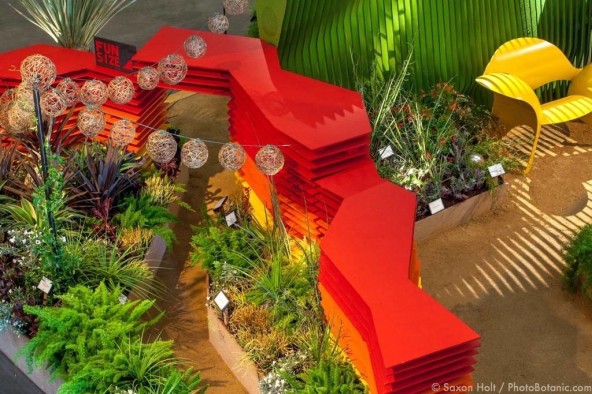 The "Agave" garden from Arizona State University.
With palm detail.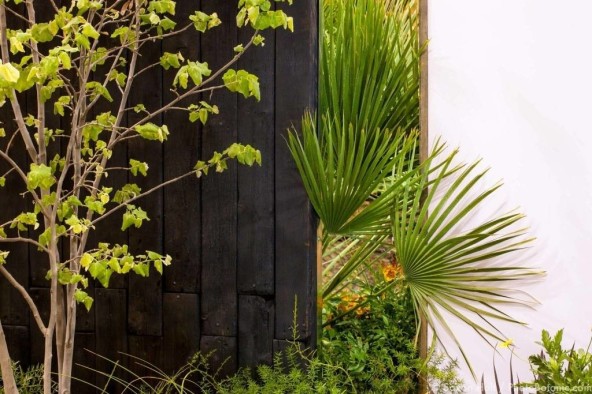 Dramatic lighting also made the"Urban Mixology" exhibit from the Academy of Art University School of Landscape Architecture a surreal cityscape.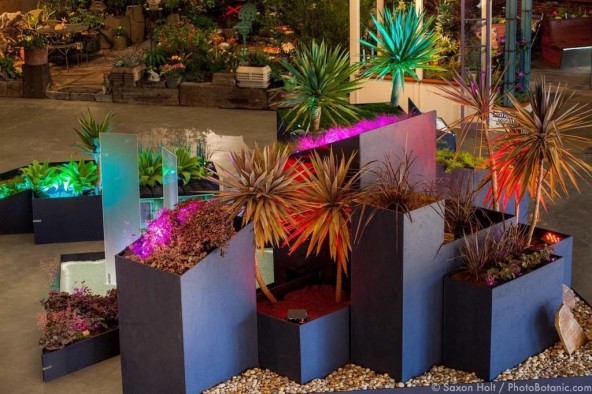 For lighting though, nothing quite compared to "Plantasia", the exhibit by Goulart Design.  Playing off the movie Avatar with wild colors and plenty of fantasy, it was a blast to photography.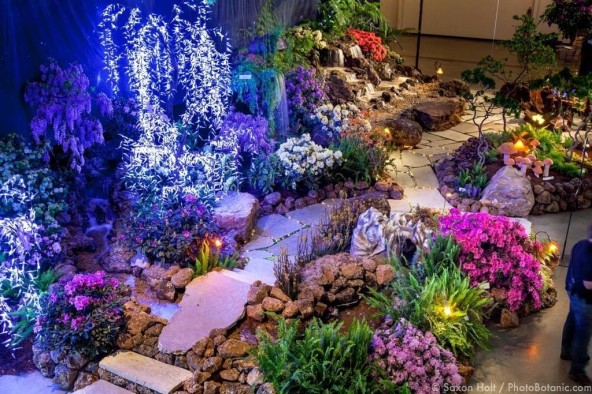 Loved these trees with electric leaves.  Low water use for sure…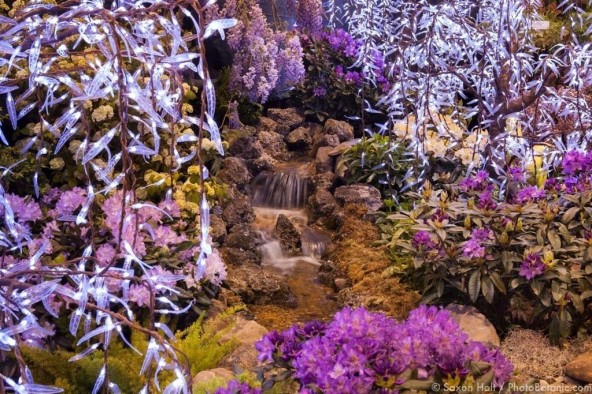 For true water conservation the "No Water for this Garden" exhibit garden by New Leaf Landscapes was truly inspired.  Four water cisterns were stacked to hold a patio roof with rain gutters that would fill the cisterns.  Set among drought tolerant plants and olive trees, this was my favorite garden of the Show.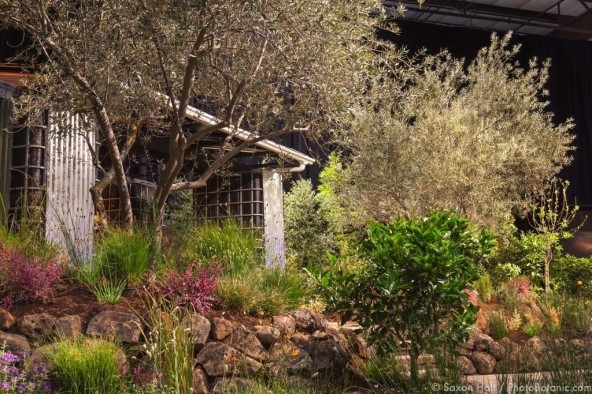 Several gardens featured California native plants including the Gold Medal garden from Terra Ferma Landscapes, "Vintage California".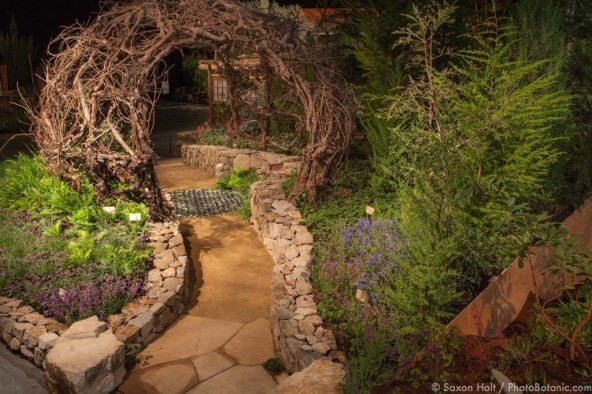 This charming garden using recycled grape vines won the Garden Conservancy award, as well as awards from Sunset Magazine, ASLA, and Pacific Horticulture.
Another fine garden featuring native plants was the "Native Shade Garden" exhibit by East Bay Wilds.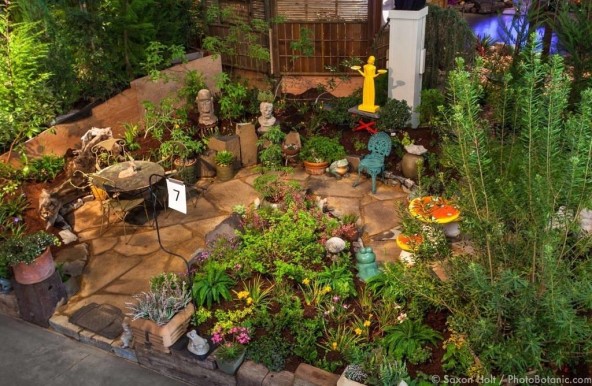 I loved seeing all the Pacific Irises from Pete Veilleux.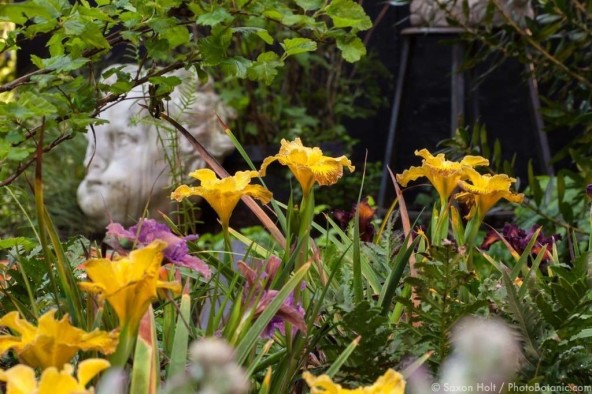 My friend and partner in The American Meadow Garden, John Greenlee, put together a masterful meadow in the midst of a vineyard.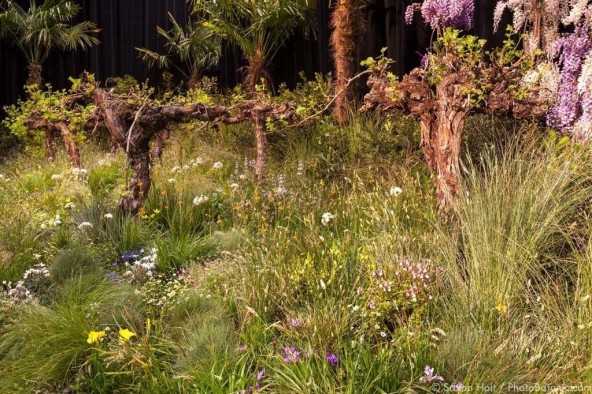 The centerpiece and largest garden was "Vulcania: An Oasis for the Soul" by Clearwater Designs; full of whimsy and fun.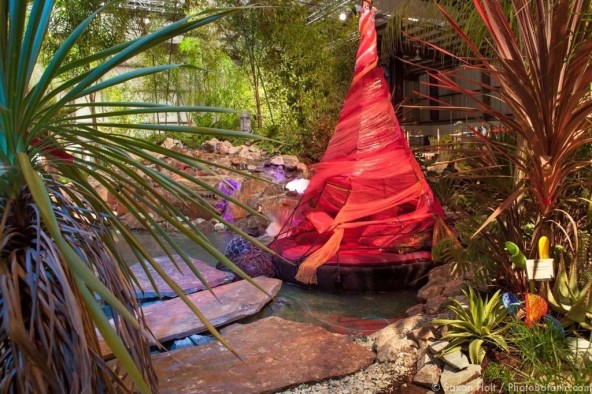 A submarine with working periscope and aa-oogah horn delighted all.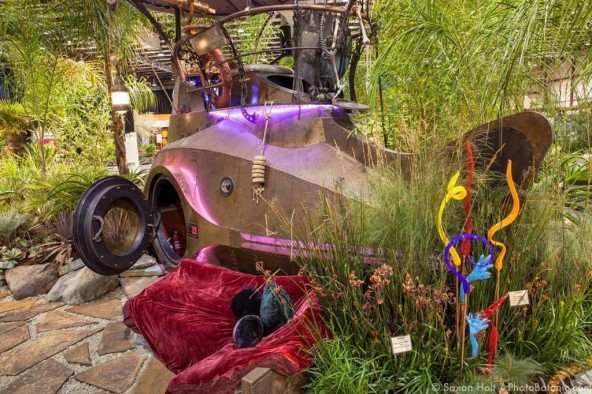 Many of the gardens featured patios and themed living spaces such as "Anchored" by McKenna Landscapes.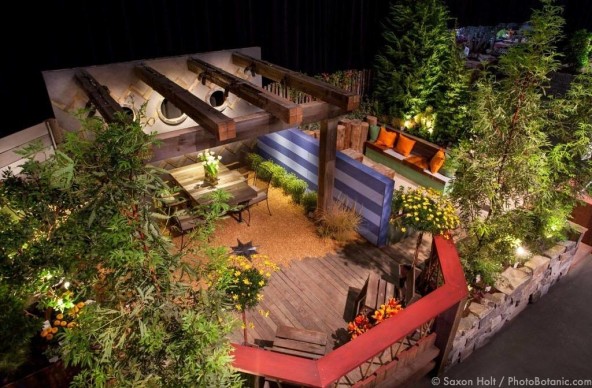 Or an automotive motif from DMT Design: "On the Move".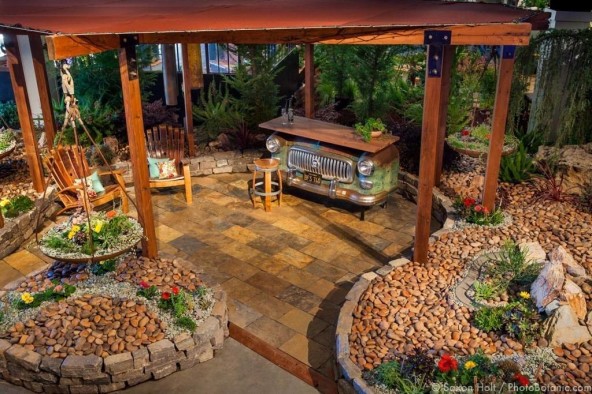 Using 19th century San Francisco cobblestone Hortisculpture Landscape Design put together an entirely edible landscape with "Days Gone By"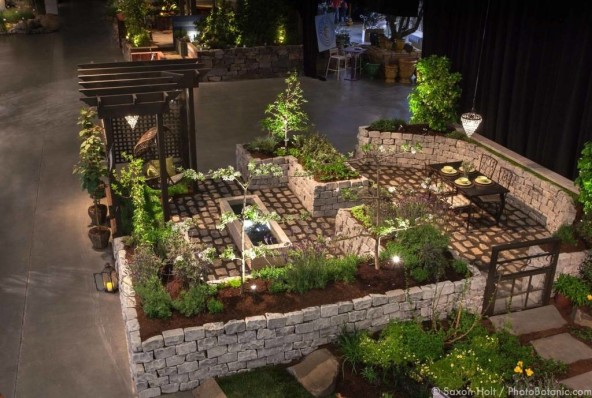 The students at Foothill College put together a charming roof top garden, "Above & Beyond".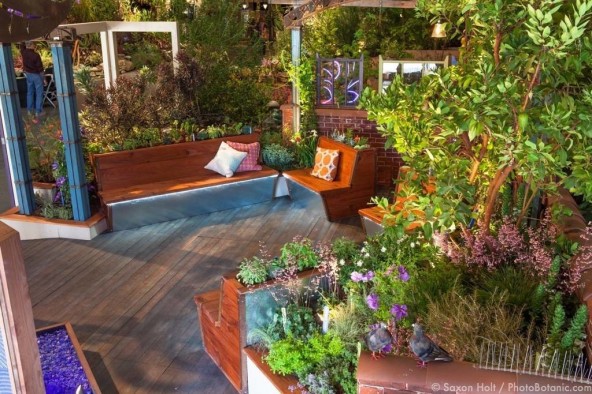 From the patio at "The New Leaf" exhibit by BuenoLuna Landscape Design and Deep Rootz Design, fresh flowers were added every day to the stone basin.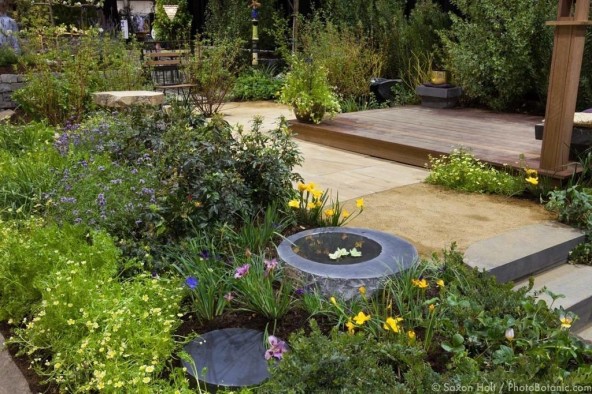 A twirling water wheel was the centerpiece of "Paradise Hawaiian Style" by The Bamboo Man.
And from the steppes of Asia Garden Hortica brought us "Sanctuary Steppes".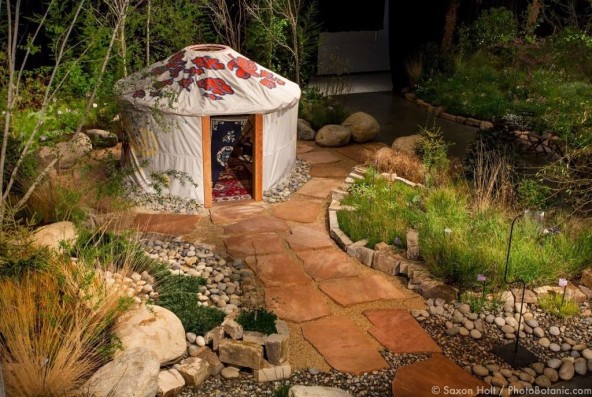 Inside the yurt.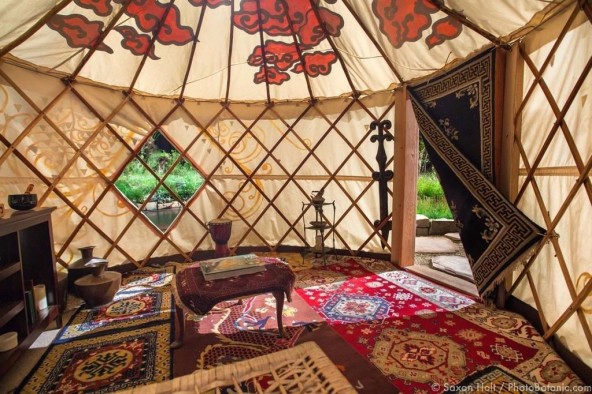 And this is where the magic carpet ride comes to rest…
More photos on my PhotoBotanic Archive.
GET UPDATES
Sign up and receive our latest garden inspiration straight to your inbox.