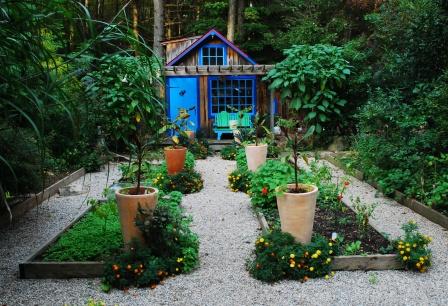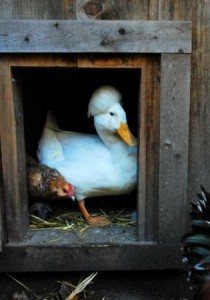 Storage has been at a premium here at Clatter Valley since we turned the garage into a painting studio for my wife. I was hard put for a spot for the lawnmower, assorted pots, hoses, tools and all the bric brac of gardening, so I built this 8×12 shed fronted with a 6×12 porch. Together they make a colorful backdrop for my four-square veggie garden. The idea was to use the shed for storage and as a potting shed. I built a south-facing skylight into the roof and put to use an old greenhouse bay window type thingie which now comprises most of the south wall. But my little shed is stuffed so full of stuff each winter I can barely get in the door, let alone use it for seed starting type activities. Then we got chickens. And things got worse.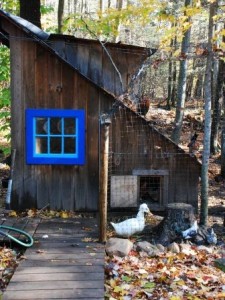 Long story short, we soon had a chicken coop to house our 15 chickens, 5 ducks, and 1 goose. If you look at the shed head on, it appears as if shed and coop are a single building. They're not. I just wanted it to look that way. You get to the coop by following a boardwalk from the shed's porch around the corner to the coop.  That where Elvis lives (he's our white-crested Pekin duck). Now, we still have storage issues, since what room I was able to make in the shed is now taken by chicken feed (which, as a point of future reference, is NOT cheap), bales of straw etc. So one building begets another. My current project is an 4×8 foot storage-only shed, where I hope to stash all that everything. And maybe some day, I'll start a few flats of seeds in the shed.
GET UPDATES
Sign up and receive our latest garden inspiration straight to your inbox.