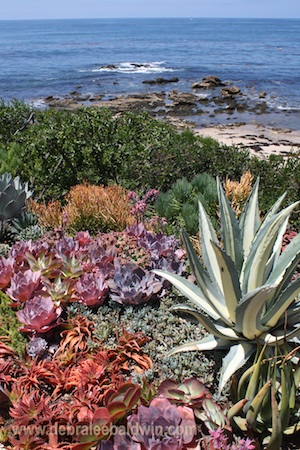 An article I scouted and wrote for Sunset is in all regional editions of the September issue. (Most Southern CA garden articles appear in the Southern CA edition only.) One reason is Brett Gum's gorgeous photography. These are my own photos here.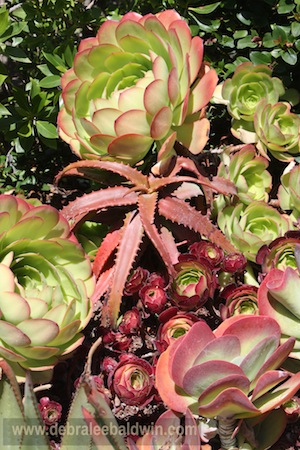 The location is a bluff-top home in the Orange County community of Corona del Mar. The designer is Joe Stead, a horticulture teacher at Orange Coast College. The amazing colors in the tide pool-themed garden resulted from a phenomenon called "stressing." To learn more, see my YouTube video, "How to Stress Your Succulents…and Why You Should".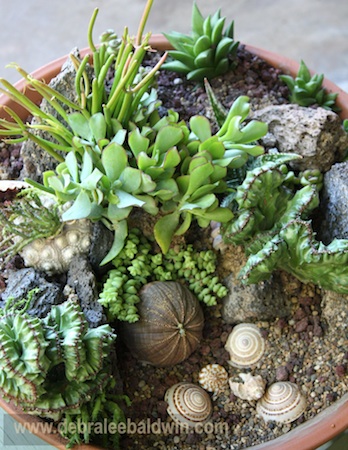 To celebrate the Sunset article, I've released a new 3-minute YouTube video: "How to Create a Succulent Tide Pool Garden".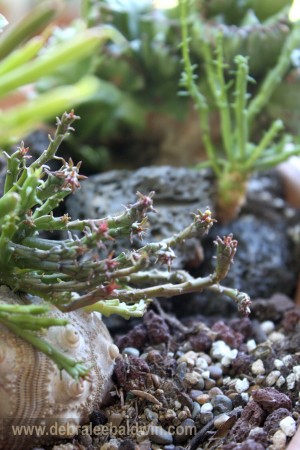 All you need is a wide, shallow pot, coarse potting mix, rocks and perhaps some shells, plus succulents that look like undersea flora and fauna. A surprising number do, like Euphorbia flanaganii above.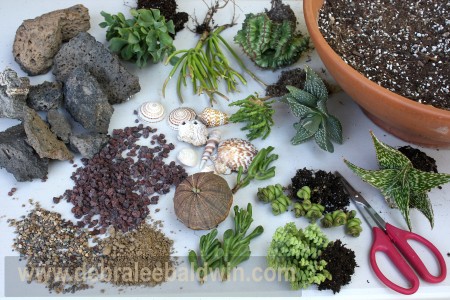 This photo, which is labeled in the video, shows possible materials. Plants include tiger jaws (Faucaria tigrina), stacked crassulas, mosaic aloe, Euphorbia obesa, crested Euphorbia lactea and 'Gollum' jade.
If you make an undersea succulent garden, please let us know. Thanks for snorkeling by!
My goal is to share the beauty of waterwise, easy-care succulents in gardens, containers and landscapes via blog posts, newsletters, public speaking and workshops, photos, videos, merchandise, and social media (Facebook and Pinterest). My books: Designing with Succulents, Succulent Container Gardens, and Succulents Simplified.  www.debraleebaldwin.com 
GET UPDATES
Sign up and receive our latest garden inspiration straight to your inbox.