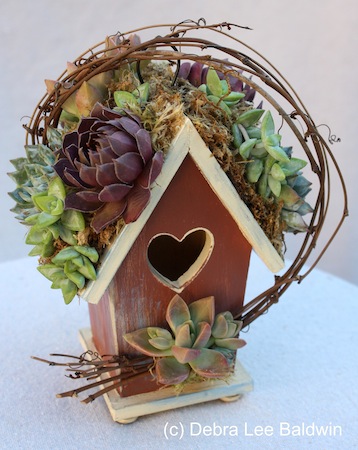 Bird houses, bird nests and bird cages with succulents…some of the designs I'm seeing are quite fetching. There must be something eggy about succulents, or they have the look of plants that grow on thatched roofs. Like this beautifully designed birdhouse by succulent floral artist Cindy Davison. Her business, The Succulent Perch ships nationwide.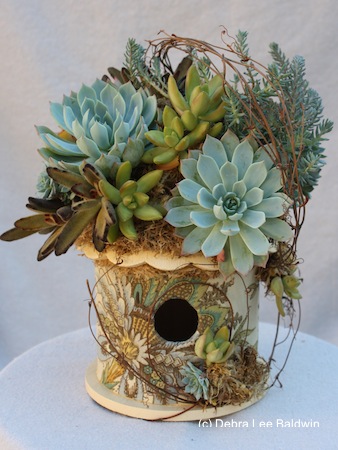 Another Succulent Perch design. The twig circle here and in first one really enhance the composition. These can be hung in the dappled light of a tree, perhaps near a window, and they're fully functional should a bird want to move in.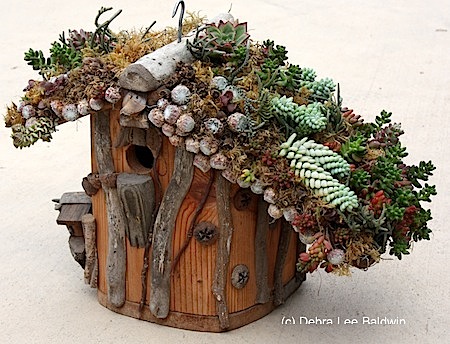 This rustic look is by another of my favorite designers, Sam Maybery of Seaside Gardens nursery in Carpinteria, CA, near Santa Barbara.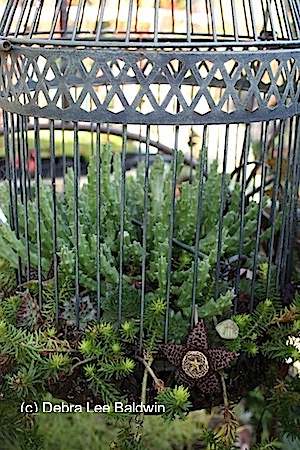 How about a bird cage stuffed with succulents? This is by Sergio of Plant Play nursery in Carlsbad, CA. The succulent in bloom is a stapeliad.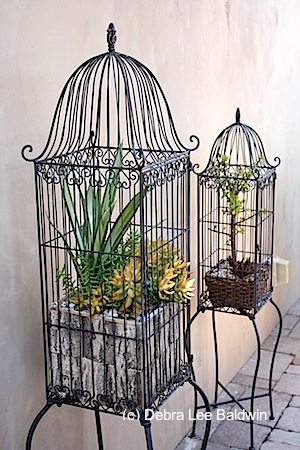 I saw these at the home of Jeanne and Barry Meadows in Fallbrook, CA. I love the way the ornate bird cages look against a blank wall. The yellow succulents are Sedum nussbaumerianum.
And last but not least, a bird's nest of succulents by Chicweed, a floral shop in Solana Beach, Ca.
Succulents are fine in airy containers because the plants store moisture in their leaves. They'll send roots into the moss (no soil needed), so all you have to do is spritz it from time to time. The birdhouse roofs and nest are basically floral arrangements with lasting power. Rosette succulents that grow on the tips of ever-lengthening stems (echeverias and graptopetalums) will get leggy over time. Sempervivums tend to look the same for longer. Pinching back the plants and tucking the cuttings into gaps will refresh the composition.
My goal is to share the beauty of waterwise, easy-care succulents in gardens, containers and landscapes via blog posts, newsletters, public speaking and workshops, photos, videos, merchandise, and social media (Facebook and Pinterest). My books: Designing with Succulents, Succulent Container Gardens, and Succulents Simplified.  www.debraleebaldwin.com