Written by Harry Pierik
I'm always delighted to receive a post from Harry on the seasonal changes in his HIdden City Garden. In this article, he 'wows' us with  2 magnificent spring flowering trees …Davidia involucrata and Cornus nutallii.
To read Harry's last post about his garden in early spring, click on here. Check out  Harry's website to learn more about his garden, design work, and recently published book.  Fran Sorin
"In this article I would like to show you two prominent spring bloomers that grace my hidden city garden. They both stand out because of their bright white bracts, with which they lure insects to their much more inconspicuous flowers.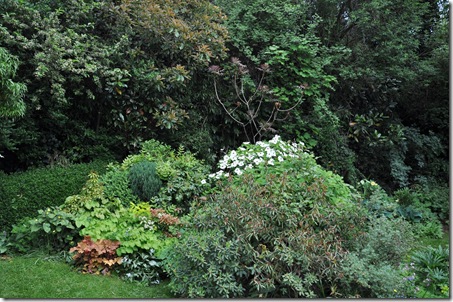 Cornus nuttallii's white flowers are beautifully highlighted against the surrounding shrubs and trees.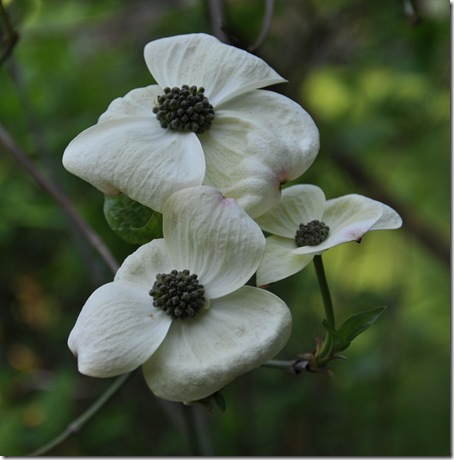 Cornus nuttallii is native to the west of North America, from California to British Columbia and prefers a sheltered spot in full sun or half shade.
C. nuttallii blooms from April to March in the Netherlands, showing four white bracts. She will endure pruning, but do not trim her old branches, for large wounds do not heal easily. Moreover the whole plant would be vulnerable to attacks by all kinds of fungi.
If you want to keep this small tree in check, trim only the young twigs and do this during springtime, before the new buds are formed in summer.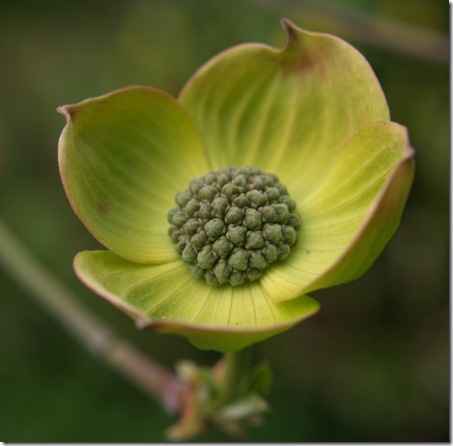 C. nuttallii has light green bracts in early April.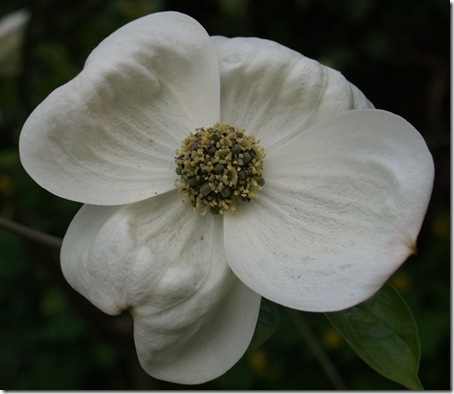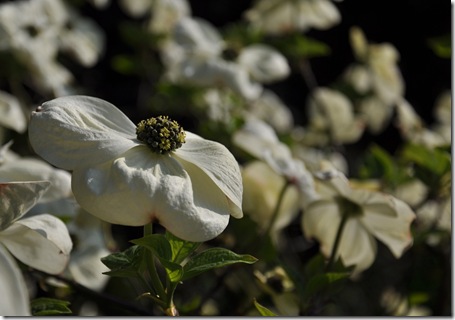 The actual flowers are closely compacted in an umbel and only start flowering when the bracts have turned white.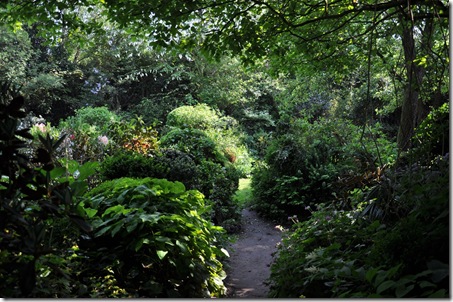 This is a vista showing the second part of the Hidden City Garden in the background; to the left of the centre, the white vanes of Davidia involucrata.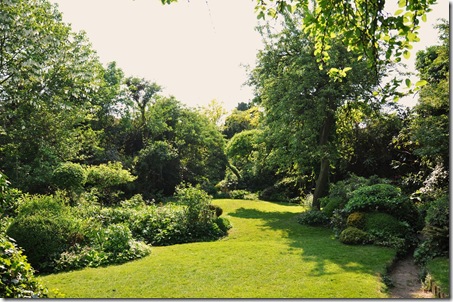 A sunny spring day. Upper Left Davidia involucrata.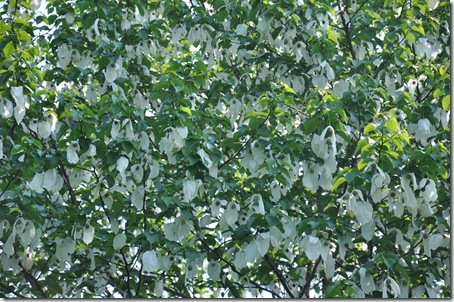 The Handkerchief tree, Davidia involucrata is a dream tree that was discovered by the French missionary Armand David in the southwest of China and of which the seeds would not reach Europe until the end of the nineteenth century.
Father David's description of this fairytale tree rightly sparked the imagination. It even led to an actual seeds competition. While the first nuts were on their way to the French nurseryman Maurice de Vilmorin and the first seedling had germinated with a lot of effort after two years, Ernest Henry Wilson, who was not aware of this development at the time, was commissioned by the legendary British nursery Veitch and set out for the inlands of China to collect the much sought after seeds.
A near impossible task, for how does one find one single tree in an area thrice the size of the Netherlands riding a donkey and helped along only by a crudely drawn map.
The Chinese Wilson was a genuine go-getter who would later become on of the most active plant collectors in history. He has introduced over a thousand new plants.
Later, he broke his leg in a ravine looking for regal lilies, which left him with a disability for the rest of his life.
In April the year 1900, after suffering many setbacks Wilson arrived at exactly the right place only to discover a wooden hovel and right next to it, an old stump, the final remains of the Davidia. Wilson however was not a man to give up just like that.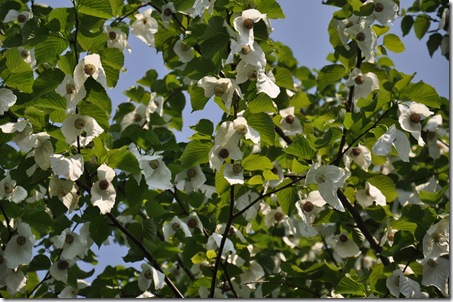 After two weeks looking for other valuable plants, he finally met face to face with a Davidia in bloom. According to his diary, it was ' the most interesting and beautiful tree of the northern hemisphere'. He then goes on to describe the flowers: 'moving to the slightest breeze, they resemble giant butterflies, or fluttering white doves between the branches'.
It is for good reason that the British call this tree 'dove tree'. While the Boxer war was raging, Wilson as a foreigner was practically outlawed, yet he stayed there until the seeds were ripe.
As can be seen from her many names, Davidia involucrata is a tree that inspires the imagination.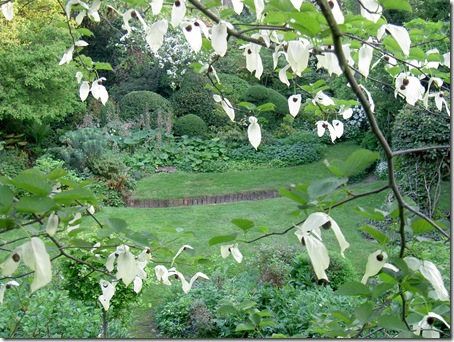 The species name 'involucrata' stands for: 'with large bracts', with which she attracts night butterflies in the moonlight, earning her the British name Ghost tree. Her most common title however, would be the one the children of army officers in former British-India gave her. The white vanes reminded them of the waving handkerchiefs at their departure from the harbor.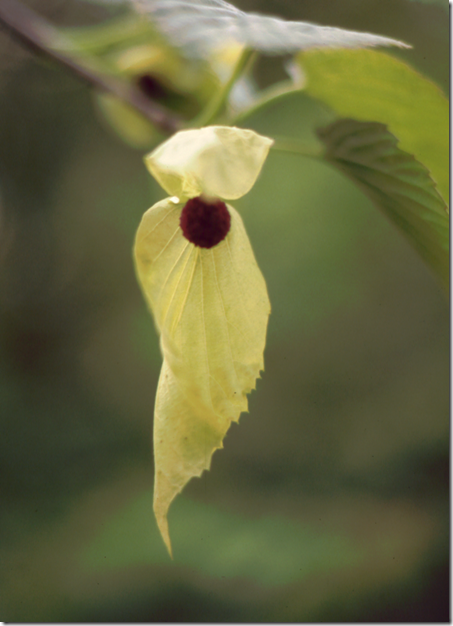 Less prominent than the white handkerchiefs that are so appealing to night butterflies are the actual flowers, reddish purple bulbs of about 2 centimeters across made up of stamens at the start of their flowering period, with a protruding egg-shaped ovary.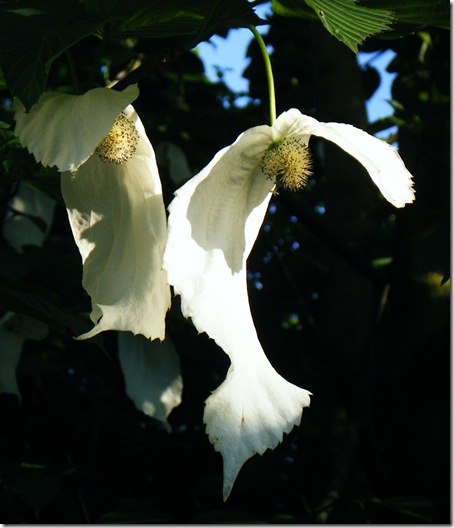 After a few days the red bulb has grown considerably and the stamens will be  clearly visible.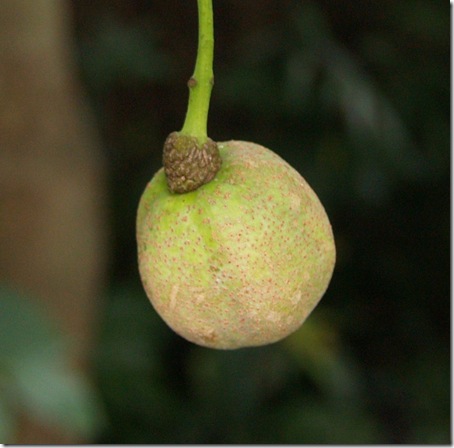 After the flowering period, ribbed nutlike ovaries will develop that do not germinate easily. It takes about ten to twelve years on average before a Davidia first starts blooming."
GET UPDATES
Sign up and receive our latest garden inspiration straight to your inbox.