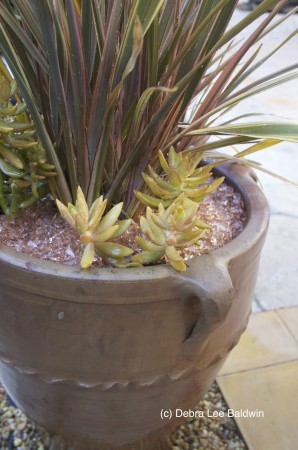 Leave it to LA. Designers in that city are using crushed glass to snazz potted plants. The glass, tumbled so the edges are smooth (it's often from recycled bottles) lends a splash of glamor.Landscape designer Laura Morton married a pink-edged phormium with an Italian terracotta pot, using a topdressing of peachy-pink glass that also draws attention to a yellow sedum's pink tips. (Photo from Succulent Container Gardens.)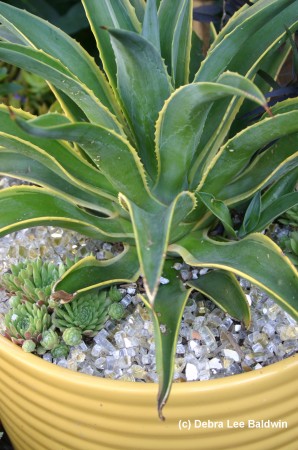 This pot's pretty and so is the agave, but what sends me over the moon are all those diamonds. (By Laura Morton.)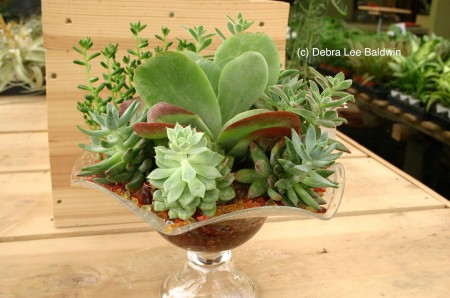 At Rolling Greens—one of LA's largest source of pots and garden accessories—red, yellow and orange glass makes the mottled edges of a flapjack kalanchoe pop. Note, too, how the container's scalloped rim also repeats the shape of the plant's leaves. [Water succulents in a nondraining container like this one just enough to keep roots moist, but not so wet they'll rot. Half a cup once a week should do it.]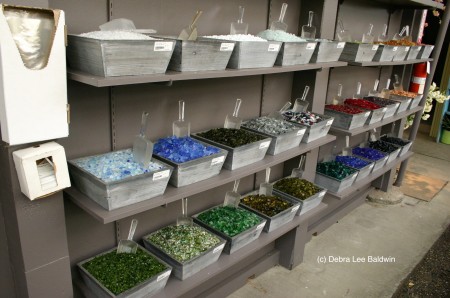 Rolling Greens offers an impressive palette of crushed, tumbled glass. I've also seen it for sale in LA at Pot-ted garden boutique and at California Cactus Center specialty nursery. (More about each below.) If your area lacks sources, try pet shops that sell aquarium supplies.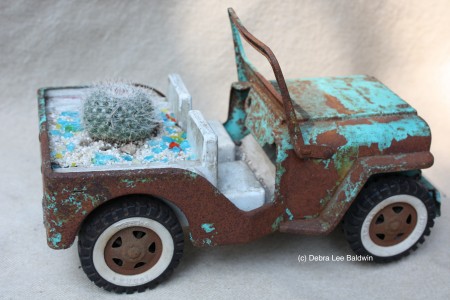 Pot-ted offers whimsical compositions by staff designer Anna Goeser.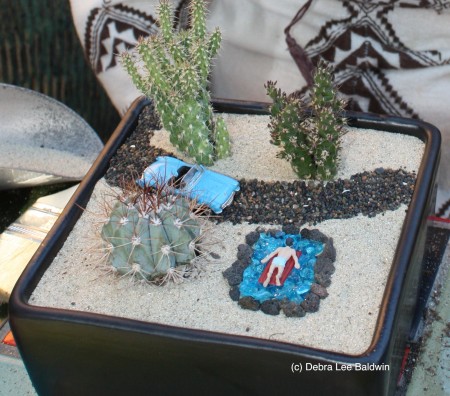 A desert diorama by Anna has a blue-glass pool.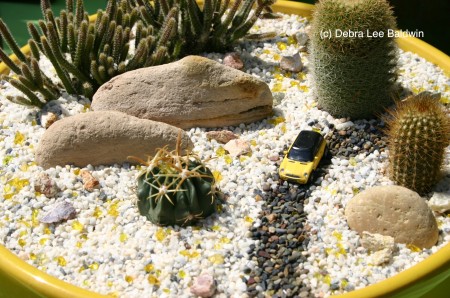 Another has sparkles of yellow that suggest heat waves, and that echo the yellow of the pot and toy car. (From Succulent Container Gardens)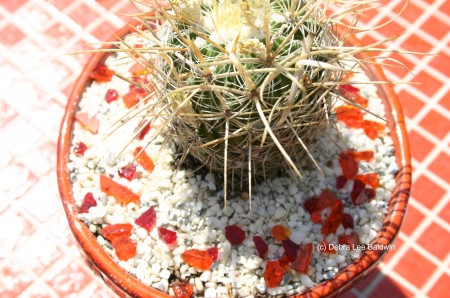 Imagine this with, say, the red-edged kalanchoe, above.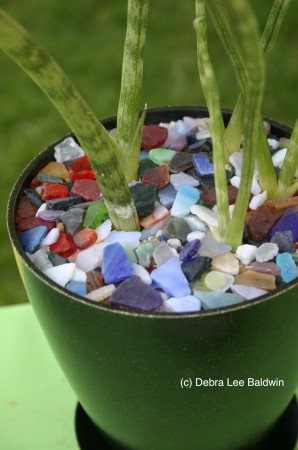 Got a boring plant in a ho-hum pot? Topdress it with a rainbow of multicolored tumbled glass.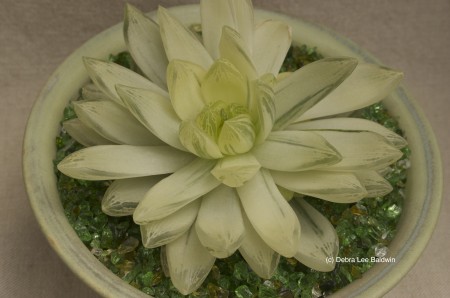 At California Cactus Center nursery, this haworthia seems to say, "You may think I'm green, but actually, I'm not. The glass is green." It also calls attention to the plant's translucent tips.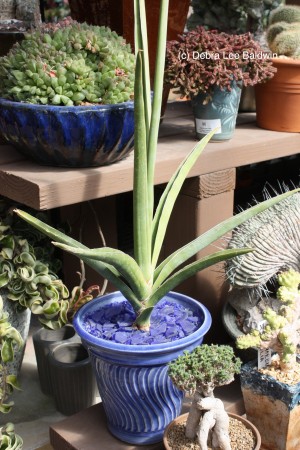 A dramatic Sansevieria cylindrica at CA Cactus appears to plunge into a cobalt pool. Or maybe it's bursting out of it.
Either way, it's all about the glass.
My goal is to share the beauty of waterwise, easy-care succulents in gardens, containers and landscapes via blog posts, newsletters, public speaking and workshops, photos, videos, merchandise, and social media (Facebook and Pinterest). My books: Designing with Succulents, Succulent Container Gardens, and Succulents Simplified.  www.debraleebaldwin.com 
GET UPDATES
Sign up and receive our latest garden inspiration straight to your inbox.