For a recent photo shoot the client asked that I show the garden with bright colors and blue sky.  I almost always resist photographing gardens in bright light because the colors get contrasty and the shadows are often deep and impenetrable, but this particular garden was designed for big light, high on a sunny Marin County hill overlooking San Francisco.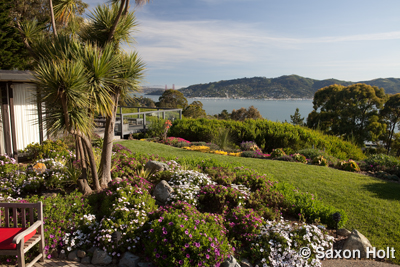 In the summer when this garden is most colorful, the garden literally closes up when the sun goes down – being full of Iceplants (Delosperma) and African Daisies (Dimorphotheca) which begin closing several hours before sundown – just about the time I normally expect to get my best photos.  And blue sky ?  Nearly absent in all my work because I work in soft light and sky color will always burn out or be avoided.
So what was I supposed to tell my client ?  That I couldn't make a good picture of the garden the way he saw it ?  In fact, I thought about saying just that, thinking I could make the picture but it I wouldn't consider it good.  As it turned out, I kept my mouth shut, knowing I would take lots of pictures throughout a long afternoon and would find photos that at least pleased me.
It would be a long post describing my thought process as it unfolded during the shoot.  Many fine photos were made, some with post production digital tricks, some by finding angles that were not dependent on the colorful flowers, some by letting the bright light be bright.  And that was the most fun part of the shoot.
The photo I feature here began as a nice enough composition.  I was on a ladder looking down on the garden with views of the Bay, Sausalito, and the Golden Gate Bridge in the distance.   There is good weight to the key elements, the water and sky, the path and shrub border, the main garden bed nicely fills up the lower left corner with a spot of red on the bench to make you wonder what else might be going on in this garden.  The eye is pulled through the garden and, along with the with the arms of the bench, we are pointed to the bridge.
Nice enough, but it doesn't do its main job of showing a garden in bright light. So let's open up the exposure.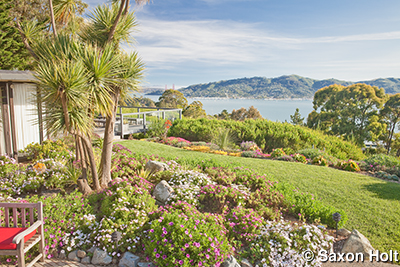 At first blush this seems washed out, like an old postcard.  Greetings From Sunny California !  But is is not really all washed out.  I kept the blue sky and red cushion.  On a bigger screen you would want to squint at this photo, wondering if sunglasses were needed because the light is so bright.  A garden in the sun.
When I showed this to my client I suggested it would make a nice print.  On a heavy, watercolor paper and a simple frame this could make a charming picture, one that the straight print can not do.  The first photo is just a photograph of a garden with a view.  The light one is about the garden, not literally the garden.
So I broke a few rules.  The camera always lies.  But I got bright light in a garden photograph.  I have a mood.
So why not take it one step further?  Digital photography offers so many possibilities.  Hmmm … watercolor paper would mean detail is not important…..   So, I begin to play with some PhotoShop painterly filters.  I boost the blue sky to accent the clouds.  I saturate the red, so you really want to know why it is there and what else is beyond.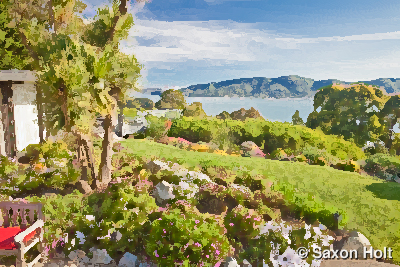 Now we have a picture about a garden in the sun with blue sky.
GET UPDATES
Sign up and receive our latest garden inspiration straight to your inbox.